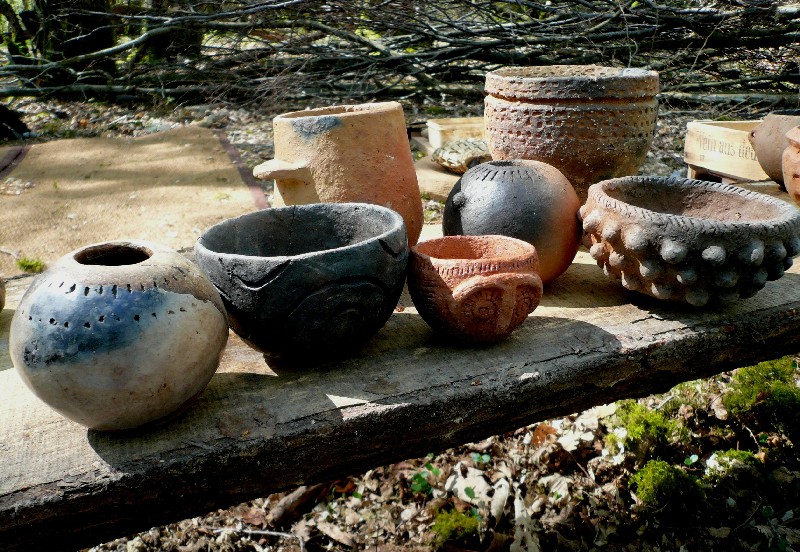 Enchanting from start to finish. It wasn't just the clay, the creating, the fire-making… but the magic you imbued it all with, and the care you took. Your light touch, the mindfulness exercise, the poem…all really moved me. You have a rare combination of gifts.
It was wonderful to feel I achieved something creative. And that special woodland. I want to do it all over again! I'm going to recommend this to all my friends. Jini Reddy. London (author of 'Wanderland' and 'Wild Times')
On Wild Pottery you'll dig your own clay from the woods and fire your pots in an open fire (or clamp kiln). It's an exciting, elemental and alchemical process: earth, water, wood, fire- it's all in there.
Courses take place in a beautiful 70 acre private woodland near Lewes in East Sussex, UK.
I currently offer 4 courses:
Level 1 Wild Pottery: the original course. Level 1 is a required foundation for Level 1.5 and also for Level 2
Level 1.5 Wild Pottery: increase your handbuilding skills and learn a firing technique to create black pots
Level 2 Wild Pottery: expand your experience of Level 1 & learn a more advanced firing technique (clamp kiln)
Family Wild Pottery: a bite-sized version for children/young people aged 7-14
Courses are designed for adults (except for Family Wild Pottery), although 16-18 year olds are very welcome if accompanied by a participating, responsible adult.
🔥Check out the calendar page for all upcoming courses and images of them. My monthly-ish email will keep you informed of any new dates, and you can read FAQs here.
See you in the woods!
Really, really enjoyed those two days – we all felt very refreshed and inspired. I have my little pot on my desk to remind me of the wonderful experience. Simon M, Brighton
Featured in the Guardian lifestyle section. National Geographic & Toyota put Native Hands in their top 125 UK adventures.