The piece: space, ropes, connection.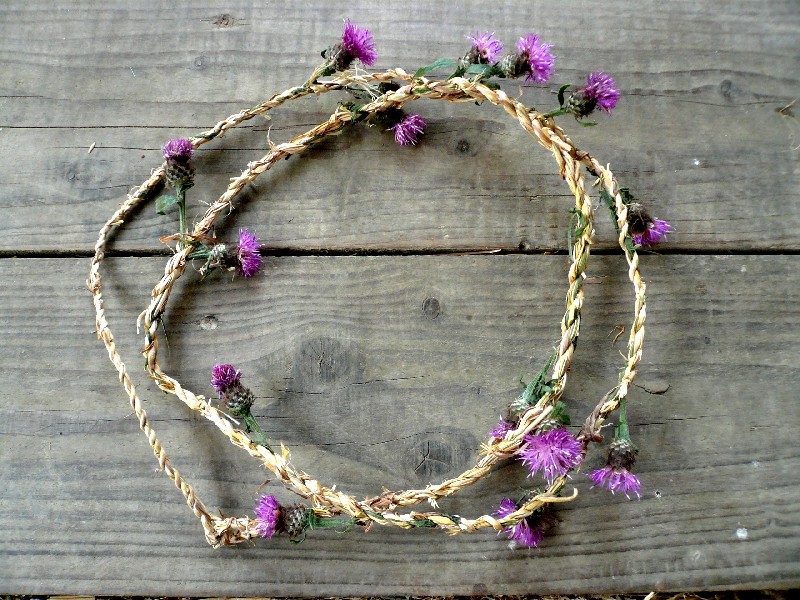 From the start it was a delight to be invited to be artist in residence here at Wakehurst, working with their meadow plants. I'm in my element with the challenge of working outdoors using foraged materials (as you'll know if you've read other posts).
The brief for this new work was a site-specific piece using the species-rich hay plants grown and harvested on site. The aim was to explore the creative possibilities of the material, celebrating the beautiful meadow plants. To create a sculptural piece that references the rich heritage of hay-making and the strong community binds that it creates.
Origins and connections are key threads in my practice. In this context it's specifically about the binding of communities through the material: hay. It's also about space, a structure that contains and holds space. Space, and the fertile void, is a primary concern in my practice as a whole, as well as the beauty of natural materials and an immersion in the sensory experience of making. I'm also interested in how communities can be resilient and wrote a post about ropes that connect us.

The piece for Wakehurst developed out of experiments with the plants, with different making techniques and with reflections about the structure it would be sited in (a small, open-sided, timber-framed building), as part of the Meadow Folk exhibition.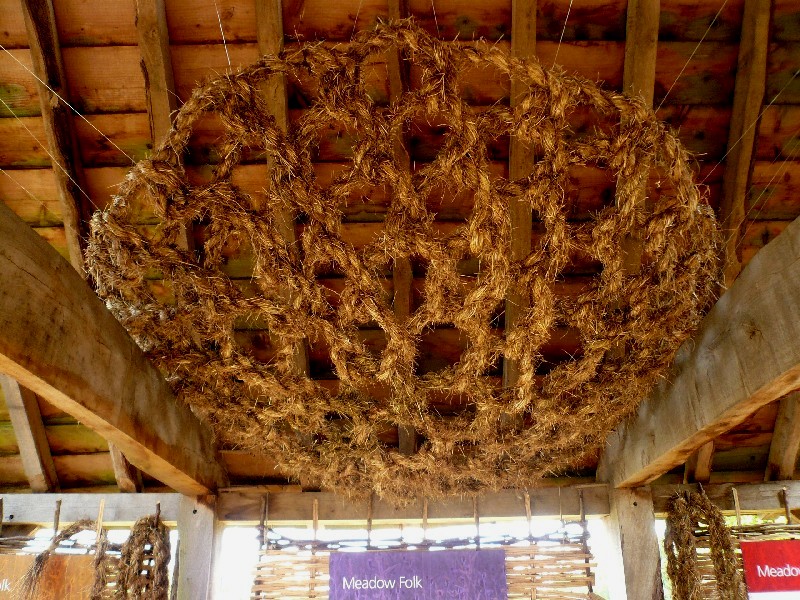 It's a concave netted structure (about 2 metres diameter) made of spiralling, interlocking loops that gather and hold space. It also defines the roof space. Made of wild grasses (mainly fescue, rye grass and sweet vernal grass) growing in the Wakehurst hay meadows, it connects the plants and the people It references a lineage of people's connection to the land: farming, the seasons, memories of meadows, and the preciousness of them.
Although hay-making is less widespread as an agricultural activity in the 21st Century, there is nonetheless a vibrant contemporary community of people concerned with restoring and managing hay meadows: conservationists, botanists, land managers etc, who are all nurturing meadows because of ecological concerns: pollinators, biodiversity, ecosystems.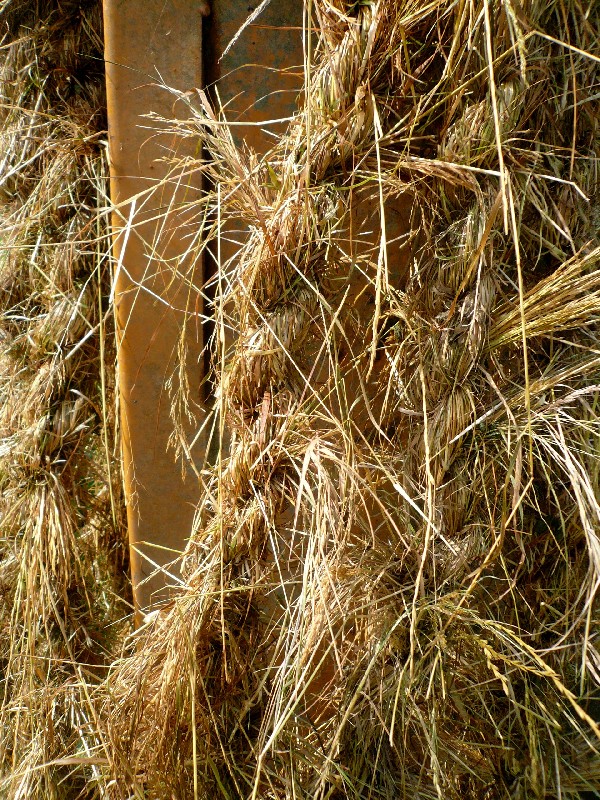 The piece is made of around 70 metres of hay rope (you can see me making the rope). Twining, making cordage, is a truly ancient human activity, and essential for survival. Tools, shelter, clothing, traps… all require cordage. Today we have all kinds of binding materials made from synthetic materials- velcro, cable ties, nylon ropes etc. But we have been making twine from natural fibres for at least 34000 years, and quite possibly longer. Evidence of the looping technique I used has been found by archaeologists in Denmark dating back to late Mesolithic times (c.9,000 years ago). 
These finds point to some of the earliest known evidence of cordage-making and basketry. And it's part of who we are today.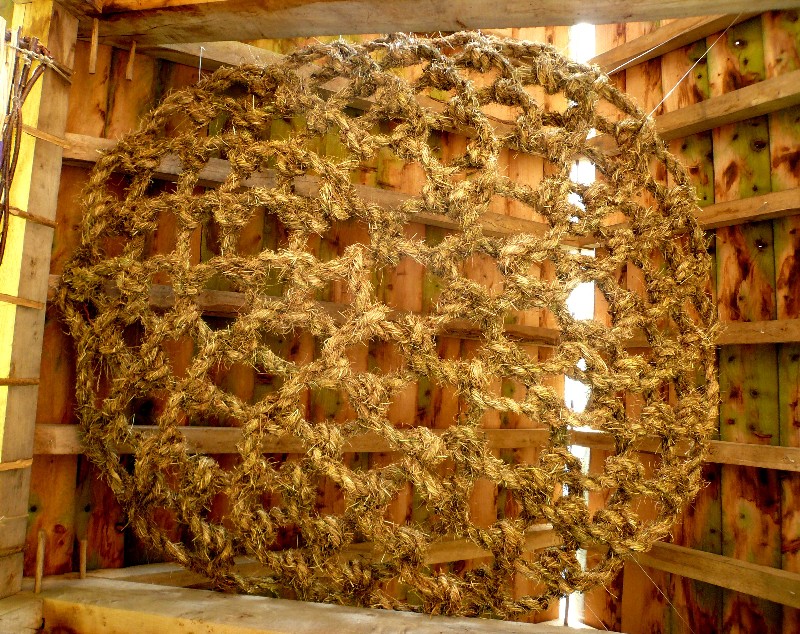 The residency has provided an opportunity to connect with my own immediate ancestors too: three generations farming a medium-sized mixed farm in South Oxfordshire. It's been a chance to talk with my Dad about his memories of growing up there in the 1930s and '40s, when mechanisation and intensive farming techniques were introduced and radically changed the way we farm the land. Ropes and netting have always been traditionally used in agricultural settings, often made from straw. I discovered an interesting traditional use for hay that I'd not come across before: hay wisps.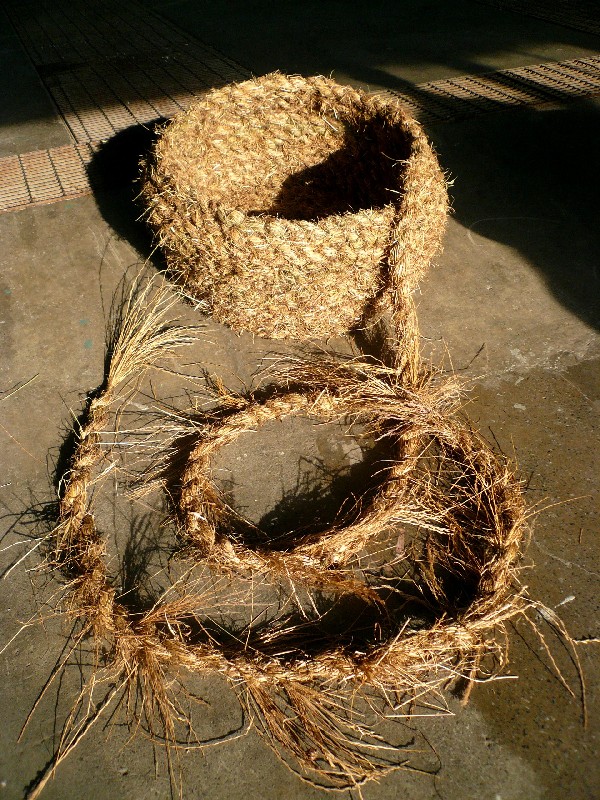 If you read my post Falling Apart you'll know I had a good deal of hay rope left over from the residency. Back in my studio, I've coiled it into a large piece, 'Meadow Vessel' that will be exhibited as part of the Making Lewes festival. It's just about big enough to get into and curl up. Inside, you're surrounded by the evocatively sweet smell of hay. The next best thing to having your own private meadow.
Immense thanks go to Iain Parkinson for giving me the wonderful opportunity to work in the beautiful environment of Wakehurst; for his support, enthusiasm and spacious allowing of the work to unfold. Thanks also to his team, namely: James, Russell, Jon and Harriet. And all the staff at Wakehurst who've been ever helpful and welcoming.
You can also read further blogs entries about the residency.