Hay Wisperer.
I've discovered another, interesting use for hay rope. Hay wisps.
The Working Horse Trust are at Wakehurst and the horses are turning the hay down in Bloomers Valley, my favourite of Wakehurst's meadows. It's a steep sided valley that's not been cultivated since the 1940's, and is surrounded by mature trees. It's been the focus of the meadows restoration project over the past 4-5 years here and is now a gloriously species-rich Wealden meadow. This year the abundance and variety of wild meadow flowers has been breathtaking. Swathes of common knapweed have given the valley the impression of a kind of purple mist.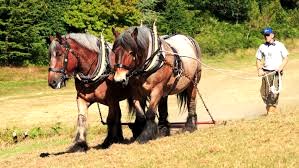 The working horses are amazing- big, strong, beautiful. I meet one of then, Hamish, who's off duty. As I stroke his mane and ears, I soak in his horsey smell that reminds me of childhood days, and marvel at the velvety-ness of his muzzle. He's very tolerant of strangers handling him, as he and the other horses are often out and about at public events.
Claire, who works for the trust tells me about the horses and their working practices. I describe what I'm up to at Wakehurst, making a hay rope installation, and she mentions hay wisps, used for the horses. My interest is sparked. She says that wisps are used in grooming them after they've been hard at work and are covered in sweat. I invite her up to the timber-framed building, where my work's installed (and where I'm stationed for a 'meet the artist' weekend), to show me how to make a wisp, using the stash of hay I have there.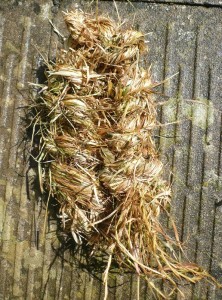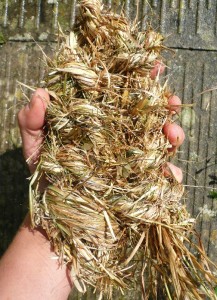 She takes a bunch of the hay and swiftly runs one off. I have a go. Two metres of hay rope, woven in an over-two, under-two pattern. It should be just the right size to fit comfortably in the hand. I've made mine (pictured left) from 2-ply hay rope, though traditionally they're made with single ply.
Once the other grooming brushes have worked the oils of the horses' skin up into the coat, the wisp is used as the final grooming stage. It buffs up their coat to a beautiful sheen. It's also used after the horses have been working hard, as a way of absorbing the sweat from their coat. Hay tends to take up any moisture that's going, so I can see how effective it would be for the job.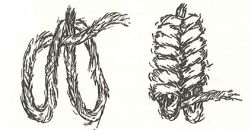 It's a simple enough technique to make a wisp with the over-two, under-two weave. Once you get  the hang of it, it only takes a few minutes to make. Claire tells me that a well-made wisp would usually last a couple of weeks. If she's in a rush she'll sometimes just grab a handful of bedding hay for the job.
I love how the material can be turned into this beautiful and useful object, made on the spot from what's at hand. A great bit of appropriate technology.
You can see the working horses in action over the August bank holiday weekend (24/25th Aug) at Wakehurst as part of the Magical Meadows festival there this summer.