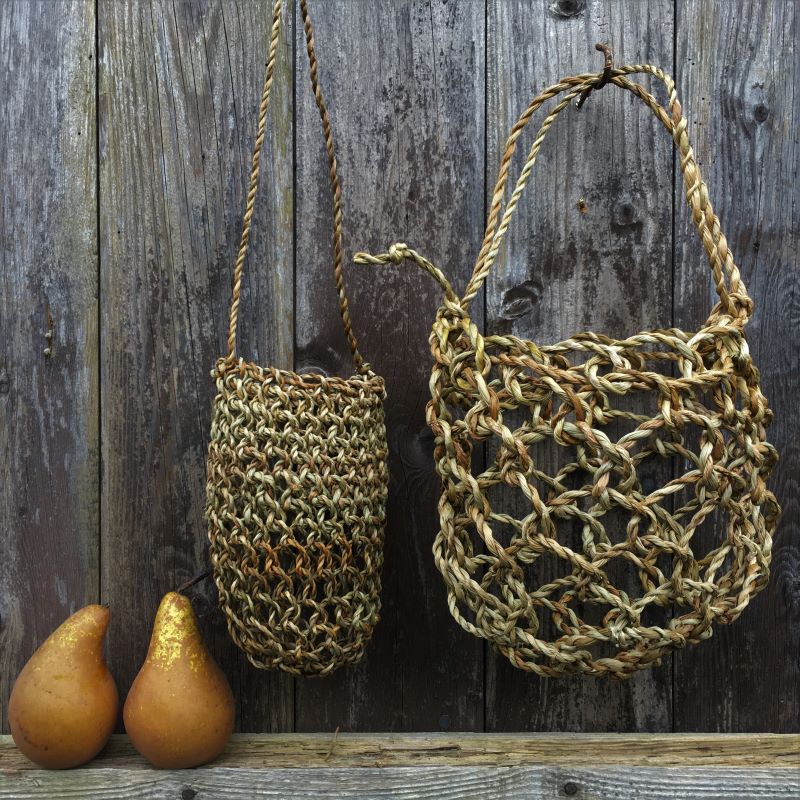 June 11 (Saturday)
Sept 17 (Saturday)
10.30am-5pm
£110
Venue: open air woodland setting in a 70 acre ancient coppiced wood on a family-run working  farm: peaceful and beautiful Dernwood Farm, Nr Heathfield, East Sussex.
Come and make a small looped cordage bag, in the woods round a campfire. This day is an introduction to looped knotless netting, using English rush.
You'll learn how to make the rush into cordage and then loop it into a strong and semi-pliable structure. There's archaeological evidence of this technique from Mesolithic times. It's remained essentially unchanged since then and is a technique loved by contemporary basketmakers and fibre artists.
Rush is a beautiful native plant that has a long tradition of use in basketmaking. It's soft, lovely to work with, and has gorgeous hues from green through to gold.
This course is suitable for people who've had a go at making cordage before, or for beginners who have good hand skills. Groups are kept small to allow for individual attention.
Make a weekend of it by also coming to Wild Cordage (June) or Rush Foraging Baskets (Sept).
A light vegetarian lunch is provided, we'll have have a kettle on the camp fire, plus a huge tarp on hand for cover in case we need it. I aim to offer you a satisfying learning experience as well as an enjoyable time away from it all. To support you in getting the most from the day, we'll connect to the woodland surroundings through a short and simple, guided mindfulness-based practice.
Being absorbed in such a beautiful activity in a beautiful place was very enriching and exactly what I needed. Thank you for making it so. JB, Sussex
Accommodation: camping is available at the farm venue and full details about this will be sent to you when you book on the course. The farm also has glamping options, including cosy bell tents and cabins with wood-burners. The cost of staying at the farm is not included in the course.
Featured in the Guardian lifestyle section. National Geographic & Toyota put Native Hands in their top 125 UK adventures.