A crisp cold November morning and I'm meeting a group of archaeologists at Fort Cumberland in Portsmouth for a day of basketmaking.
During our discussions and through the making itself, a couple of very interesting revelations happen over the day, which make invaluable connections between archaeological research and embodied experience.
Fort Cumberland is a national heritage site dating from the 18th Century, and is descried as the 'finest example of a bastion trace fort in England' (I'm not entirely sure what that means… but I do know that the site has a particular beauty to it).
It's also home to Historic England's archaeology research team, which is why I'm here, as they're keen to learn basketmaking with me. Our base for the day is this wonderful old building, their laying out shed. It's where archaeological finds are spread out on huge tables, for study purposes.
I've brought a few boxes of various things I've made, for the group to handle and discuss. It's an ice breaker that will hopefully whet appetites for our day of making. They're an enthusiastic and convivial group. And since everyone in the team works with material culture, a lively and engaged discussion takes off immediately.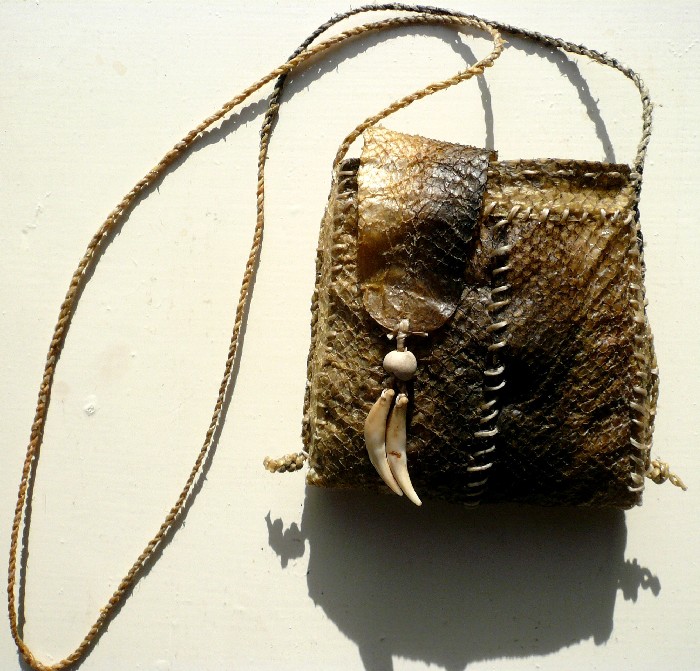 One of the things in the boxes is this fish leather bag. It's a favourite of mine. I describe the tanning process to the group: how I prepped the skin, then used urine to tan it, finally smoking it over burning rotten wood. This last stage forces tannic acid around the fibres, acting as a protective, preserving element.
This sparks a lot of interest and they ask me further questions. One of the group says: "We often find significant evidence of rotten wood having been burned. We could never work out why people did this as it doesn't generate enough heat for cooking etc. We never knew it was part of the tanning process… so it could well have been evidence of hide-working!"
The group settles in to weaving their rush baskets and become absorbed in the rhythmical process. Soon the only sound you can hear is the swish of the material as it's being handled and manipulated. I love this part of a weaving day, when the focus deepens and people find themselves in a flow.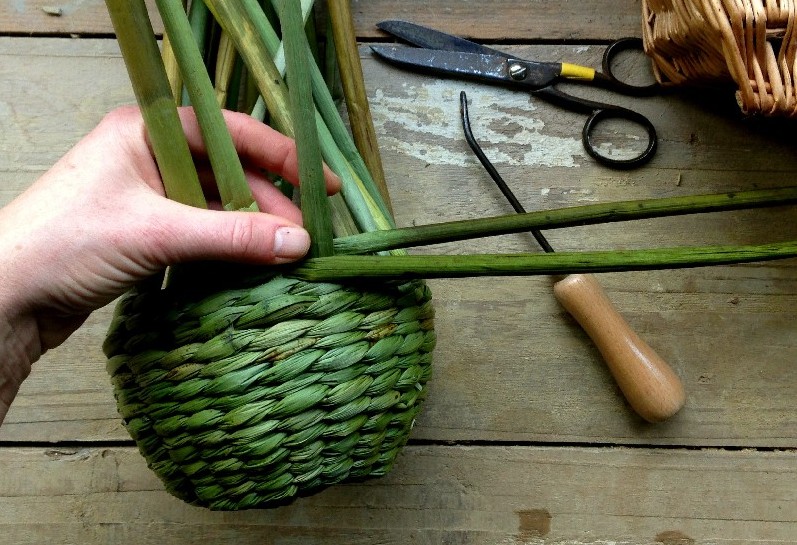 Towards the end of the day, people are finishing up by trimming their baskets. This involves cutting off the many sticking-out ends of the rushes to tidy up the weave, as the last stage of the making.
An archaeobotanist in the group makes a startled sounds that gets everyone's attention. She'd just looked down at her feet and what she saw gave her a surprising 'aha' revelatory moment.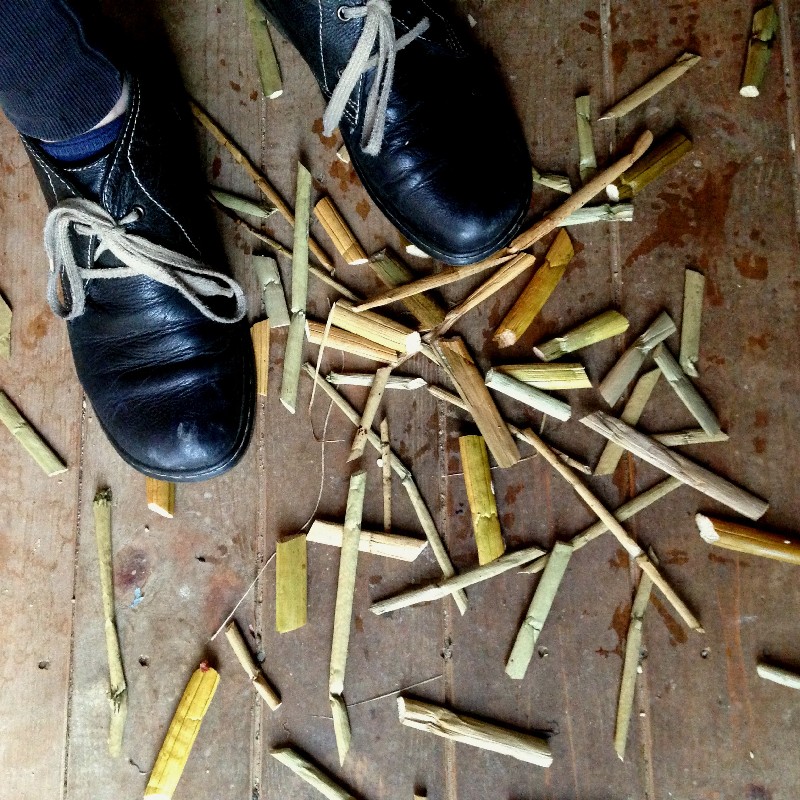 She tells us that some time ago she'd been analysing a find that she and her team had never been able to understand. It was a load of rushes, cut into 2″ pieces, all over what had been a floor. They just couldn't work out why anyone would do this and leave them strewn around.
Making her own rush basket led her to understand that the ancient dwelling was most likely that of another rush basketmaker, leaving her (or his) trimmings where they fell.
The embodied experience of working with materials, tools and techniques that have changed little over time gave invaluable insights to this group. It's why I love working with archaeologists, researchers and people engaged in museums: their extensive knowledge is brought to life and often given new meaning through the making itself.
Read about Ruby's staff training in basketmaking for Stonehenge
You'll find details about all Ruby's courses here