10.30am – 5pm
£140 (for weekend offer see below) 
Venue: open air woodland setting in a 70 acre ancient coppiced wood on a family-run working  farm: peaceful and beautiful Dernwood Farm Nr Heathfield, East Sussex.
This day is an immersive, in-depth exploration of percussive fire-making techniques, with a focus on the ancient tools of flint & steel. Explore and gain confidence in safely turning a tiny spark into a fire that will hold its own.
As well as flint & steel, you'll also be able to have a go with flint & pyrites, the most ancient percussive tools. We'll look at the various tinders that can be foraged and you'll learn how to identify, gather, prep and use these materials.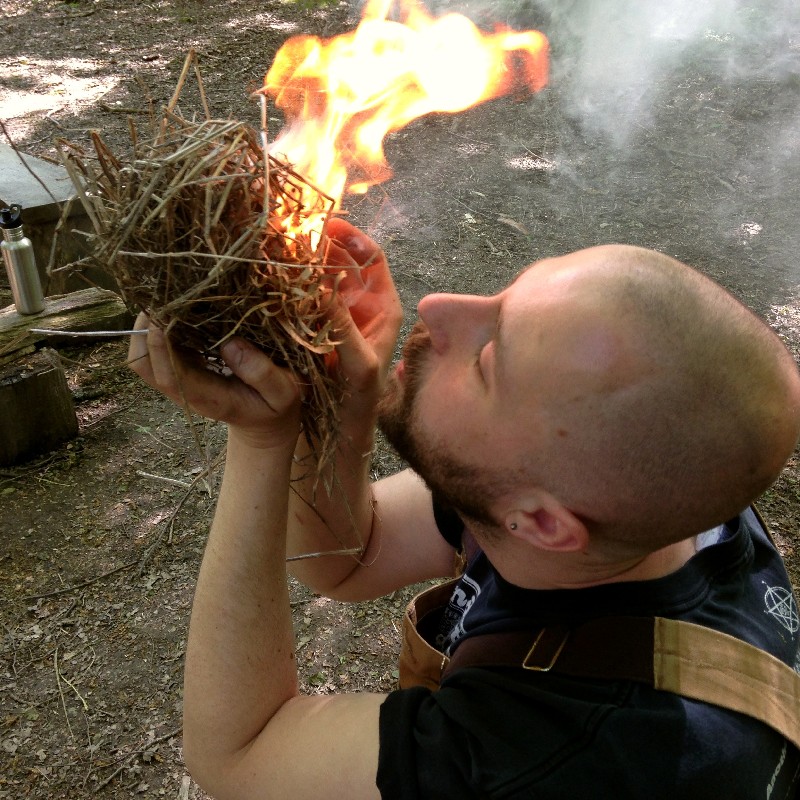 Whether you're lighting a campfire or a fire bowl, making fire this way, without matches or a lighter, is truly empowering. It touches a primal part of us, and is deeply satisfying.
Suitable for anyone who's always wanted to have a go… and also for anyone who'd like to develop their existing skills. My aim is for you to leave with a grounded confidence in your fire-making ability. Groups are kept small to allow for individual attention and there'll be time to focus on any specific aspects of your technique that you'd like to improve.
A simple but hearty vegetarian lunch is provided, we'll have have a kettle on the camp fire, plus a huge tarp on hand for cover in case we need it. I aim to offer you a satisfying learning experience as well as an enjoyable time away from it all. To support you in getting the most from the day, we'll connect to the woodland surroundings through a short and simple, guided mindfulness-based practice.
We learned so much… yet the pace was never rushed or stressful. Each part of the process was completely engrossing and I was able to be more fully present than I usually am in my daily life in the city. It's hard for your thoughts to wander when you're waving a smoking nest of grass in your hand, watching it burst into flames! It all felt so sane, human and natural. YK, Sussex
Fire-making is one of my favourite courses to teach, not just for the fun and empowerment of it but also for the sense of awe and respect you can experience when we work with fire in this way.
Optional extra on the day: you can purchase a beautiful percussive fire-making kit, handmade by Ruby.
Accommodation: camping is available at the farm venue and full details about this will be sent to you when you book on the course. The farm also has glamping options, including cosy bell tents and cabins with wood-burners. The cost of staying at the farm is not included in the course. Read more about onsite and offsite accommodation options.
You can read FAQs here.
See you in the woods!
Featured in the Guardian lifestyle section. National Geographic & Toyota put Native Hands in their top 125 UK adventures.