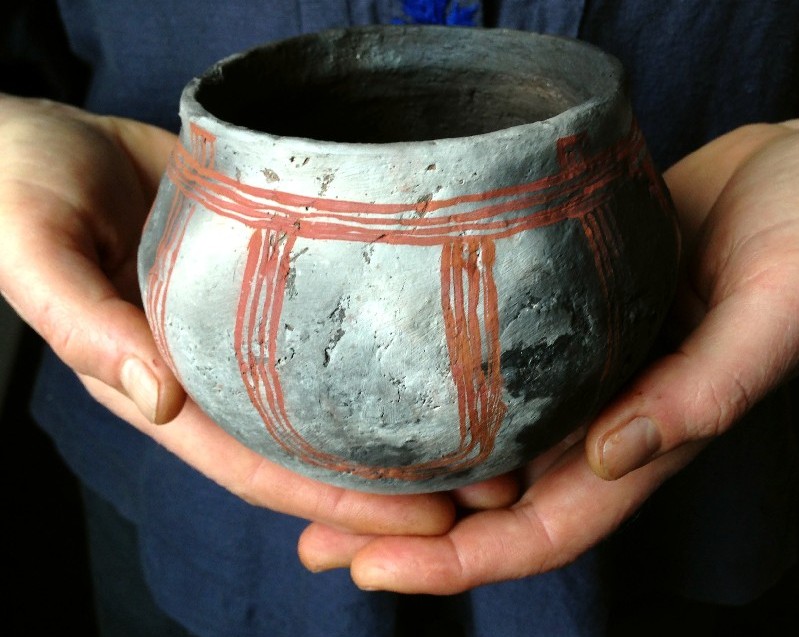 Wild Pottery Level 2
Three days

2020 dates tbc. Watch this space, or be amongst the first to hear via my newsletter
10.30am-4.30pm each day*
Cost £260
Wild Pottery Level 1 is a prerequisite for this course. If you've not already attended the level 1 course, you can book a place on Wild Pottery Level 1 here 
Venue: 70 acre ancient coppiced  woodland on a family-run working  farm: peaceful and beautiful Dernwood Farm Nr Heathfield, Sussex, TN21 0PN
Over 3 days you'll learn how to make wild pottery using clay you dig from the woods, decorate it with natural pigments and then fire it in a clamp kiln. Clamp kiln firing is a more complex technique than the open firing we do in Wild Pottery Level 1. And because it burns hotter and longer, it results in stronger pots.
This course provides an understanding of all the processes involved in making wild pottery, and gives you a hands-on appreciation of the origins of this craft. The tools, equipment and technology we'll be using are, as far as is known, the same as those used since Neolithic times, when pottery began, and well into the Bronze age.
The making: the whole of the first day will be for making your pots. You'll dig your own clay from the site, as you did on Level 1, but you'll prep it slightly differently this time. You'll learn more complex construction techniques for your pots than you did on Level 1 and will also be able to consolidate your existing skills. Natural pigments will be available for you to decorate your pots if you wish. Examples of pots made this way will be there to inspire you, and technical assistance will be on hand from Ruby.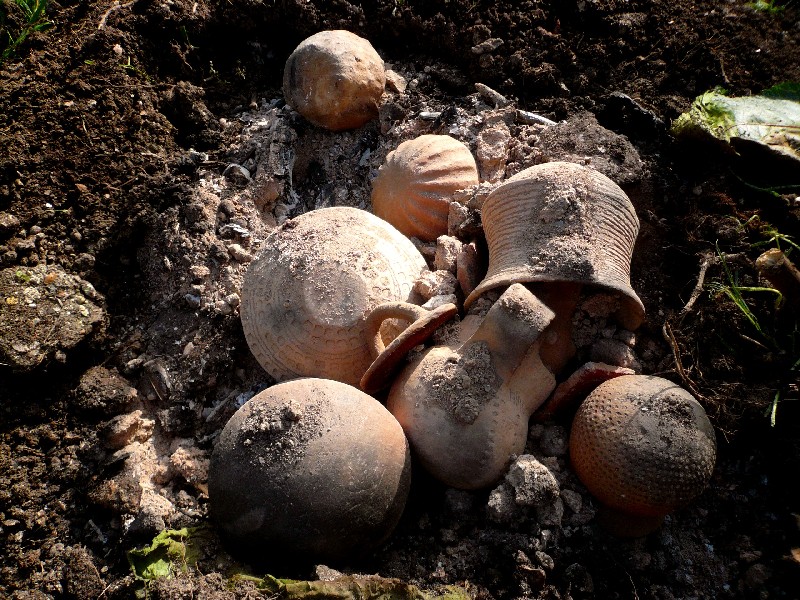 The firing: on the second day we'll set up the clamp kiln, which is very much a group activity as there are different stages and materials involved. Once the kiln is up and running, it will burn through the night to the following day. At times we'll need to keep a close eye on the kiln and monitor its progress. At other times there'll be a chance to enjoy some down time in the beautiful woods.
Groups are kept small to allow for individual attention. I aim to offer you a satisfying learning experience as well as an enjoyable time away from it all. To support you in getting the most from the days, we'll connect to the woodland surroundings through a short and simple, guided mindfulness-based practice. 
It was great to work together communally and use our physical bodies to dig, knead, mould, sweep, build, blow, and wait. I really loved it and felt my body just relax and take up more space, feel more solid… it was an effect I wasn't expecting!
Thank you so much again – for providing such a beautiful space with your energy, and for sharing these valuable crafts and techniques with us. What you do is so important. VT
Wild Pottery Level 1 is a prerequisite for this course. If you have not already attended the level 1 course, you can book a place on Wild Pottery Level 1 here
Accommodation: camping is available at the farm venue and full details about this will be sent to you when you book on the course. The farm also has glamping options- cosy bell tents and cabins with wood-burners. Please note that the cost of staying at the farm isn't included in the cost of the course
* Because of the nature of the processes we use on this course, daily timings will vary a bit. Details will be sent to you once you've booked your place.
You can read what previous attendees say about our courses here, and read FAQs here.
See you in the woods!