During the Neolithic time at Stonehenge, there would have been willows growing on the banks of the river Avon, which ran right by the houses situated  at nearby Durrington Walls. These are the Neolithic dwellings that  have been reconstructed at Stonehenge visitors centre, to give an insight into peoples' lives at the time. It's thought that the Durrington houses were probably inhabited by people involved with building Stonehenge (uou can read more about these houses in my previous blog). Willow would have been a really useful and important resource for these people, for medicine as well as all kinds of crafts, including weaving. So I'm offering willow bark baskets as the first of two Stonehenge staff training sessions in Neolithic Basketry.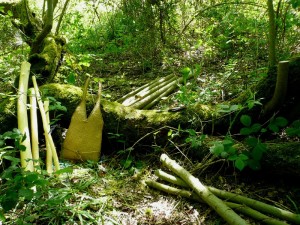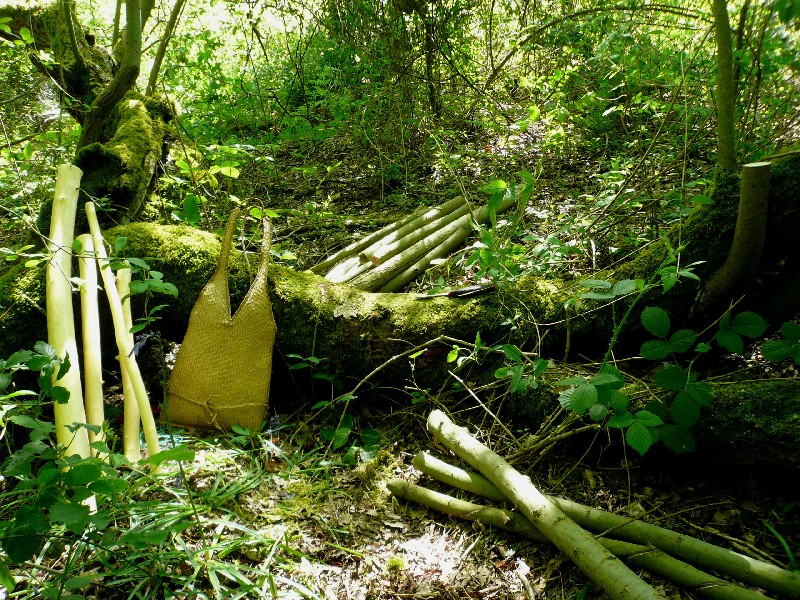 The reconstructed Durrington Neolithic houses at Stonehenge have been sited up by the visitors centre and that's where we'll be based for the basket-making. Up there on the plains, there aren't any willows growing. In fact there's not much there but grass. I was booked to run the sessions in mid July. By that point in the season it can be a less-than-optimum time for collecting bark- it may be difficult to remove easily, particularly if the weather's been warm with a lack of rain. So with that in mind, I decided to bring the willow bark with me rather than take the group on a long and possibly fruitless foraging trek to the river Avon. I started foraging for it back in June when the sap's newly risen and the bark slips off a treat. This photo shows the corner of the woods where I spent a day cutting branches and stripping them.
I cut the willow bark into strips and tied it up to dry in coils. With an expected 20 staff coming to the training there were a lot of strips to cut- about 300 all in. I hung them to dry on a drying line which ran the length of my studio, making quite a curtain of coils.  They gave off a lovely scent hanging up there, gradually turning a mellow brownish hue. Soaked before the training days, they became pliable again and ready for weaving.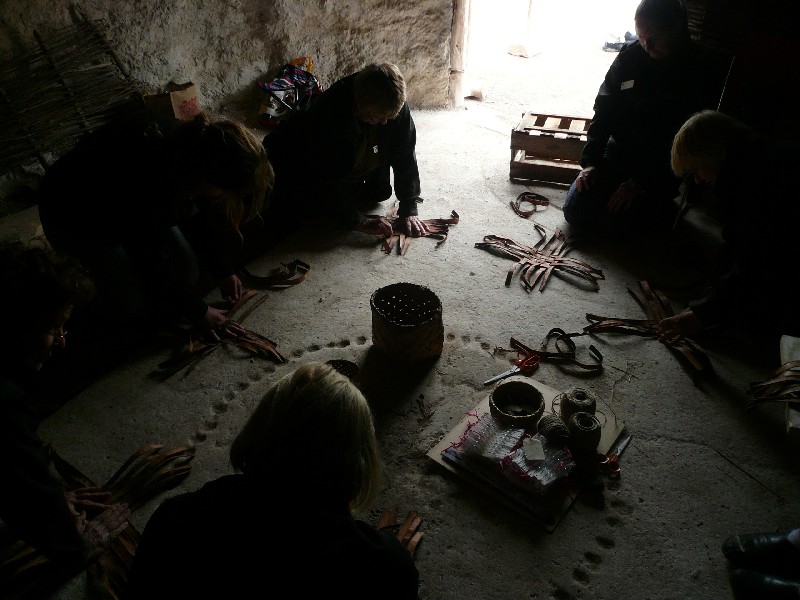 We set to work on the rammed chalk floor of one of the beautiful Neolithic houses. Some of the participants already had a bit of weaving experience; several claimed to be no good with their hands. But they were all enthusiastic and keen to give it a go. We discussed baskets in prehistory, looking at significant archaeological finds from the period (more about this in the next blog post) and evidence of known techniques. We also reflected about the various uses of baskets at a time before ceramics or metal. A wide range of baskets that I've made from various foraged materials was laid out for the group to handle and discuss. All of them are made using materials and techniques that were known at the time of Stonehenge.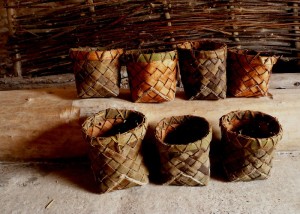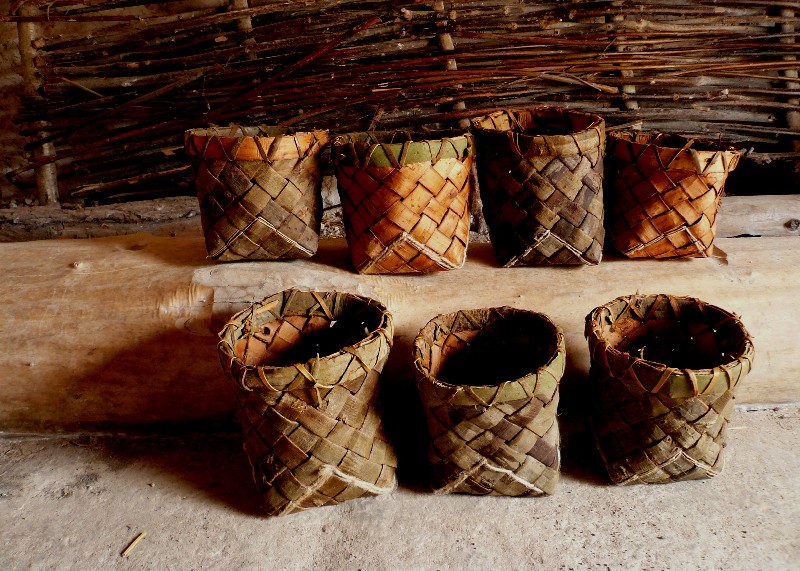 There's evidence that plaiting was one of the earliest known basketry techniques and that's the technique the group used with their bark strips. You can see it in action in the video at the end of this post. The bark is a beautiful, supple material to work with. Pre-soaked to make it flexible, it handles like leather and smells great.
In keeping with Neolithic technology, we cut the bark with flint blades and used a bias plaiting technique. Then stitched with thin strips of bark to finish the basket rims. Everyone was thrilled with what they made, especially those who hadn't reckoned themselves to be basket makers.
I'm very much looking forward to returning in a couple of months for Part Two.