Rush Stars & Hearts, and Twig Wreaths
Sat 26 Nov: Twig Wreaths (am); Rush Stars/Hearts (pm)
Sun 27 Nov: Rush Stars/Hearts (am); Twig Wreaths (pm)
£38 per session (am session 10-12; pm session 1-3) 

Come and be creative in the beauty of the winter woods around a cosy camp fire. Make beautiful Christmas decorations for your home, using natural materials. There'll be a pan of mulled apple juice on the fire to warm your cockles and get you in a festive midwinter spirit.
Bookings: scroll down for 'Book Now' buttons and venue info.
Rush Stars & Hearts
Make folk art inspired stars, hearts and snowflakes from English rush. It's a traditional, native plant that's lovely to work with. You can make small decorations for your tree or bough, or larger versions to hang on your door or wall.
Twig Wreath
Make a unique wreath using twigs foraged from the woods. No wire, pins or nails will be used, only the beautiful simplicity of the natural materials with their subtle colours and textures. Perfect to hang on your front door, as a wall decoration, or a centrepiece for your table.
Venue: 70 acre ancient woodland on a family-run working  farm: peaceful and beautiful Dernwood Farm, East Sussex. An hour's drive from London; 20 mins by taxi from the nearest train station.
Suitable for all levels, incl. beginners. Groups are small to allow for individual attention (and currently required physical distancing). Designed for adults but 14-18 year olds very welcome if accompanied by a participating adult.
Make a day of it: bring a packed lunch to eat round the fire between sessions.
You can read FAQs here.   See you round the fire in the woods!
We just wanted to thank you immensely for a wonderful day in the woods. Your course was so thoughtfully planned and paced, we felt immersed and brilliantly looked after. Time slowed and you helped us feel confident working with a new material.  Neil & Ruth, Sussex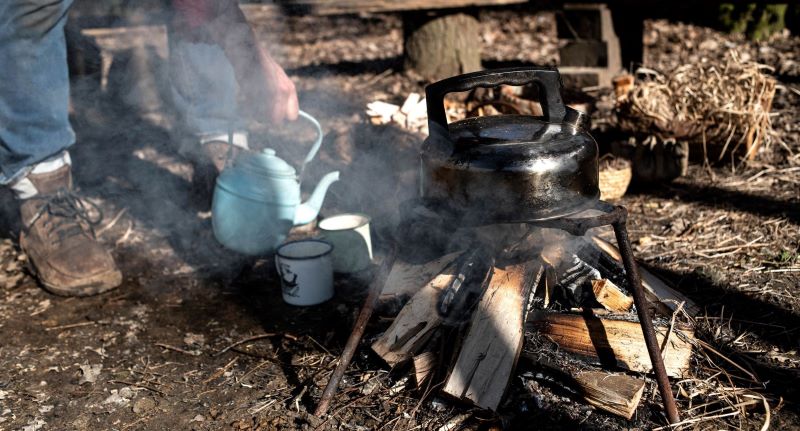 Featured in the Guardian lifestyle section. National Geographic & Toyota put Native Hands in their top 125 UK adventures.