The original Wild Pottery course
Dates for 2020:
August 14/15
August 21/22
Sept 26/27
October 9/10
10.30am – 4.30pm both days
Cost £205
All dates are fully booked but it may be possible to open more spaces if govt. guidelines on social distancing relax in the coming weeks. If you'd like to go on a waiting list please get in touch
Wild Pottery is also available as a bite-sized course for families
Venue: 70 acre ancient coppiced woodland on a family-run working farm: peaceful and beautiful Dernwood Farm Nr Heathfield, Sussex, TN21 0PN
On this 2-day course we'll be in the woods making hand built pottery using clay that we'll dig from the land on the day. This course provides a thorough understanding of what's involved in making wild pottery, and gives you a hands-on appreciation of the origins of this ancient craft. The tools, equipment and technology we'll be using are, as far as is known, the same as those used since Neolithic times, when pottery began, and well into the Bronze age.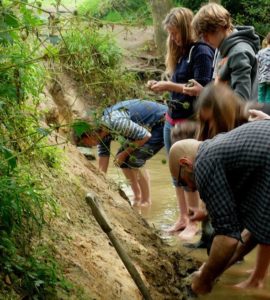 The first day is all about earth and water: learn how to find and select clay in the landscape, how to collect it and make it usable. You'll make a couple of items, and technical assistance will be on hand from Ruby to help you, if needed. You'll also learn how to make your pot strong enough to survive the firing.
The second day is all about fire and wood: you'll learn how to fire your pots successfully in an open fire. It's an exciting process to take part in and really magical to witness clay being transformed by fire. You'll see your pots glowing red hot in the fire and there'll be the option of using a rudimentary glaze to decorate them. They'll be cool enough by the end of the day to take home with you. You never know exactly how your pots will turn out so it's always a thrill.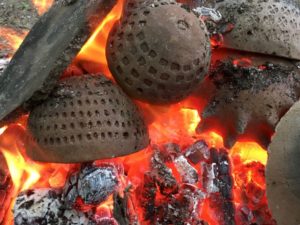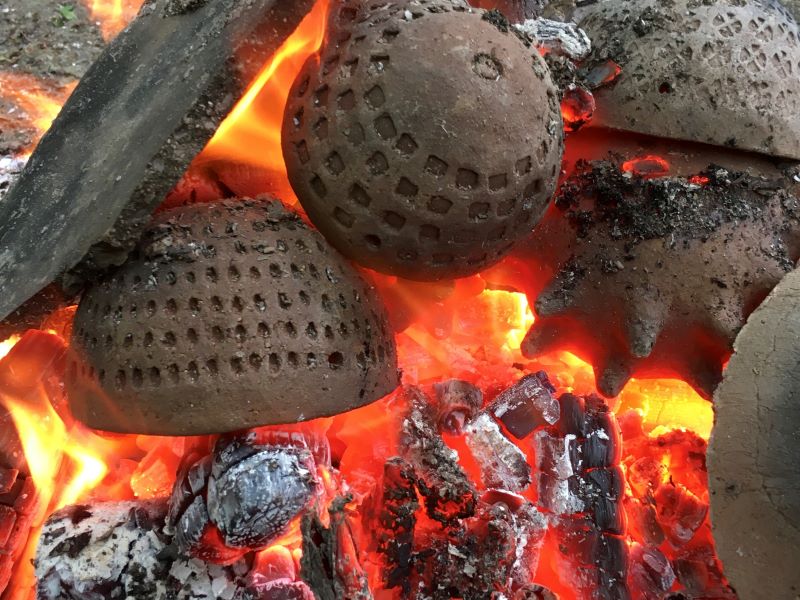 Suitable for all levels including beginners. Groups are kept small to allow for individual attention (and required social distancing).
I aim to offer you a satisfying learning experience as well as an enjoyable time away from it all. To support you in getting the most from the days, we'll connect to the woodland surroundings through a short and simple, guided mindfulness-based practice.
Really, really enjoyed those two days – we all felt very refreshed and inspired. I have my little pot on my desk to remind me of the wonderful experience." Simon M, Brighton
Accommodation: camping is available at the farm venue and full details about this will be sent to you when you book on the course. The farm also has glamping options- cosy bell tents and cabins with wood-burners.
Please note that the cost of staying at the farm isn't included in the cost of the course
Follow-on course: Wild Pottery Level 2
You can read what previous attendees say about Native Hands courses here and read FAQs here
See you in the woods!