Beech Nuts
Beech trees are beautiful for so many reasons! Their nuts (known as beech mast) are edible, and taste like a cross between a pine nut and a hazelnut and they're delicious roasted. The trees are dropping their nuts now, so it's the time to go foraging for them.
Underneath the big beech, opposite where I live, it's currently a carpet of nuts, so I'm just picking them up off the ground.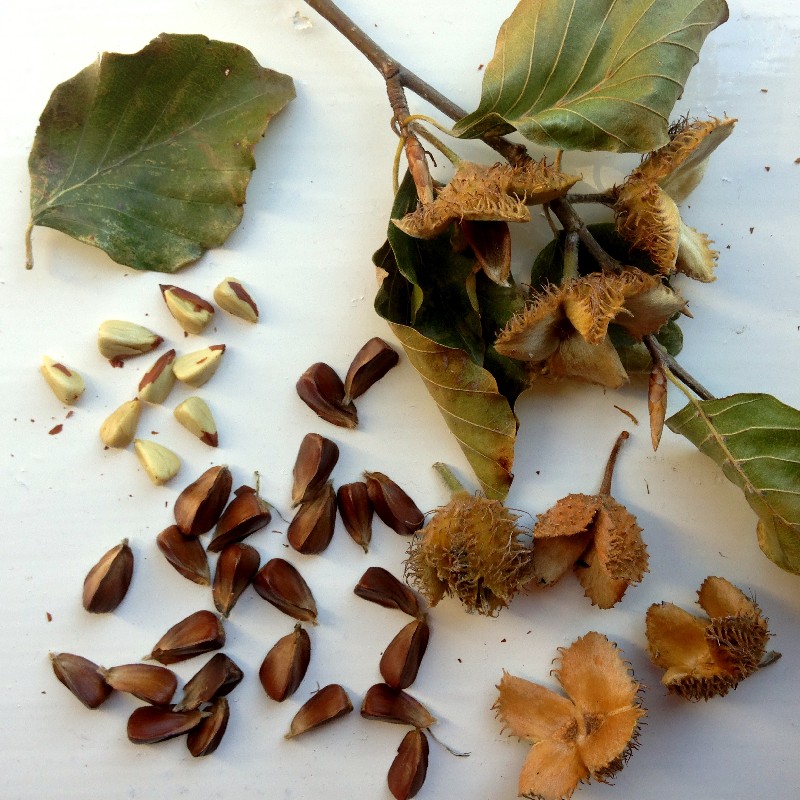 Pick the bigger nuts, the small ones are usually empty. The hard casing (top right) bursts open to release the nuts encased in a leathery skin. I found that only about one in twenty skins contained a nut, but if you float them in water you can easily separate them out as the ones with nuts sink and the rest float
Roast them on a baking tray at about 200 degrees for 5-6 minutes. They can burn easily so keep an eye on them. Break open the husk, rub off the skin and they're ready to eat. Perfect to sprinkle on a salad or grain.
A lovely way to do this if you're out in the woods, shared with me by my friend Anna Richardson, is to lay a patch of the nuts (still in their shiny brown three sided shells) on the ground and then light a tinder bundle on top. This is a good amount of heat to roast them and very little effort.
Beech mast pesto.. Swapped pine nuts for beech masts to make the most heavenly pesto – definitely worth the faff.
.
20g beech masts.
20g baby spinach.
20g basil leaves.
25g Parmesan.
50ml olive oil..
1 clove garlic.
All whizzed up in a good processor..
Here's a link to ID Beech trees