Native Hands Wild Pottery courses are held in Sussex woodland, where we dig our own clay. There's guidance on hand if you need it to make your pot(s) from the clay you dig. And you'll learn how to fire what you've made in either an open fire or a clamp kiln (depending on which course you take).
An exciting, elemental and alchemical process: earth, water, wood, fire- it's all in there
There are currently 3 types of Native Hands Wild Pottery courses:
Level 1 Wild Pottery: the highly popular, original Wild Pottery course
Level 2 Wild Pottery: build on your experience of Level 1 & learn a more advanced firing technique
Family Wild Pottery: a bite-sized version for children/young people aged 7-17
I aim to give you a satisfying learning experience as well as an enjoyable time away from it all. We always have a camp-fire, plenty of hot drinks, home-made flapjack, and some cover just in case. To support you in getting the most from the day, we'll connect to the woodland surroundings through a short and simple, guided mindfulness-based practice.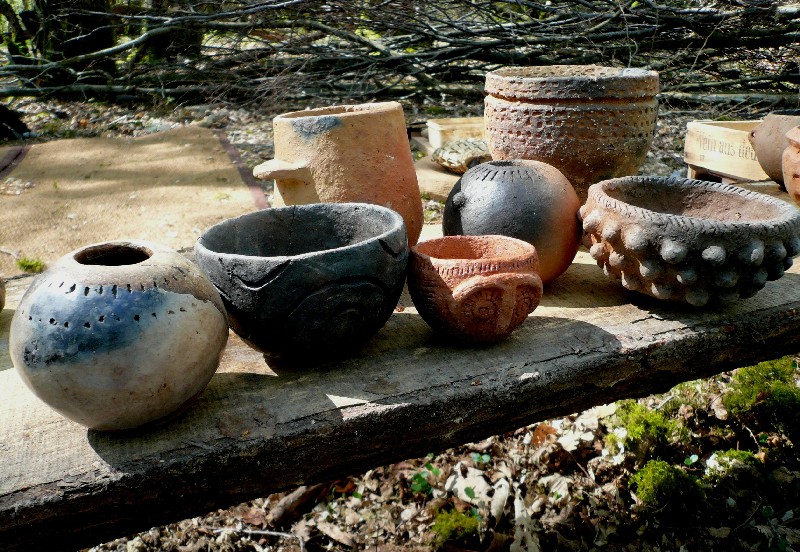 There's a camping option so that you can make a full weekend of it. And it's great to do these courses with friends and loved ones.
Like our Wild Basketry Courses, Wild Pottery is suitable for beginners as well as those with experience. Groups are kept small to support your learning and to ensure individual attention. 16-18 year olds are very welcome if accompanied by a participating, responsible adult.
Check out the calendar page for upcoming dates. My monthly-ish newsletter will keep you informed of any new dates
Really, really enjoyed those two days – we all felt very refreshed and inspired. I have my little pot on my desk to remind me of the wonderful experience. Simon M, Brighton.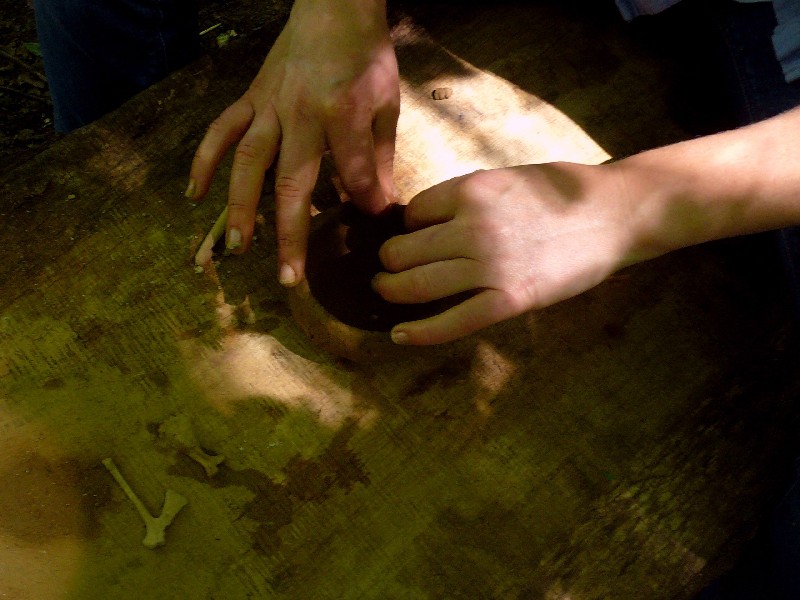 Tutor Ruby Taylor: a qualified teacher with 30 years experience, Ruby's appreciated for her ability to teach the techniques of wild pottery with clarity, patience and humour. Her courses are popular for their relaxed and inclusive atmosphere. From both formal training and her own experimentation, Ruby has a breadth and depth of knowledge, and works mainly with hand-building techniques. Read more about Ruby.
Feeling the rain on your face makes you feel alive; hearing birdsong, you share the bird's vitality and zest for life. Meike W, Croydon
Check out the calendar page for upcoming dates. My monthly-ish newsletter will keep you informed of any new dates, and you can read FAQs here
See you in the woods!