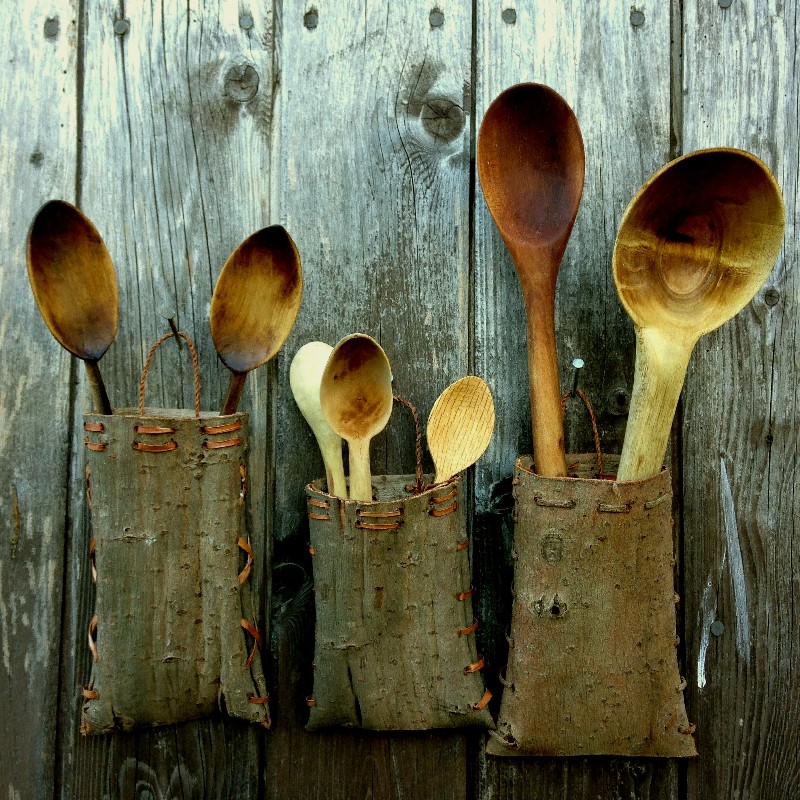 Stitched Bark Containers
Saturday 9 May 2020 (to be rescheduled)
10.30am-4.30pm
Cost: £95
Venue: 70 acre ancient coppiced  woodland on a family-run working  farm: peaceful and beautiful Dernwood Farm Nr Heathfield, Sussex, TN21 0PN
From tree to basket: come to the woods for a day and learn how to make a long-lasting stitched willow bark container to take home with you. Designed to hang on the wall, and perfect for storing your spoon collection, paint brushes etc.
You'll forage all your materials, cutting and then processing the bark. You'll learn where, when and how to harvest willow bark in a sustainable way, and you'll make your basket using nothing but the bark. Cut and used fresh, willow bark is a lovely material to work with, supple and pliable.
Guidance and tuition will be on hand to support you through all the stages of the making process, and there will be a range of sample baskets to handle. You'll leave knowing all you need to make a willow bark container from start to finish.
Suitable for beginners as well as those with some experience. Groups are kept small to allow for individual attention.
I aim to offer you a satisfying learning experience as well as an enjoyable time away from it all. To support you in getting the most from the day, we'll connect to the woodland surroundings through a short and simple, guided mindfulness-based practice.
Just fabulous. Fun, creative, incredibly informative (Ruby's hugely inspiring teaching) and in a place of such simple beauty. Way beyond all hopes, a treat of an experience that I shall never forget – shared with lovely people. Rebecca, Brighton
Accommodation: camping is available at the farm venue and full details about this will be sent to you when you book on the course. The farm also has glamping options- cosy bell tents and cabins with wood-burners. Please note that the cost of staying at the farm isn't included in the cost of the course.
Follow-on course: Woven Bark Containers
You can read what previous attendees say about our courses here and read FAQs here.
See you in the woods!